My 'Millennials' generation is busy reimagining a life of ethics
The Millennial Generation is less religious than either the boomers or even Gen-Xers were at our age. But don't be misled: Though we may go to church only on Christmas or celebrate Ramadan but skip the fasting, we are busily and earnestly engaged in reimagining the ethical life.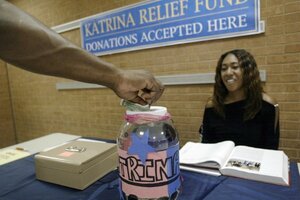 AP Photo/St. Louis Post-Dispatch, Odell Mitchell Jr./File
I was 6 years old, trudging through the Louvre. Hands in my pockets, I felt the satisfying ridges of the tiny plastic containers of coffee cream that I had smuggled out of our hostel and was using to feed stray cats. I stood before yet another painting of the Crucifixion, hung so that the bottom of the gilded frame was just at my eye level, and loudly informed my mom who was trailing a few paintings behind, "There's that guy with his foot problem again."
Needless to say, I didn't exactly grow up "in the church," as my mom and her mom before her did. I may have been short on theology but had plenty of moral instincts.
As it turns out, I'm not an anomaly. According to multiple recent studies, a quarter of Millennials (born in 1982 through 2003) are completely unaffiliated with any religion.
We are less religious than either the boomers or even Gen-Xers were at our age. Whereas generations past might have formulated their ethical values from the lessons of formal religious figures – priests, rabbis, imams – we are far less connected to them and, at the same time, have come of age during the great disintegration of institutions. Everything once anointed – from the nuclear family to Wall Street, from Penn State football to the Roman Catholic Church – has fallen, not on our watch, but as we were watching.
---