America's big mistake on indefinite detention of terror suspects
The approval of indefinite detention of terror suspects by Congress and Obama maintains the premise that because of exigent circumstances, civil rights and civil liberties must be curbed. This is much like the argument used for decades from Cairo to Damascus.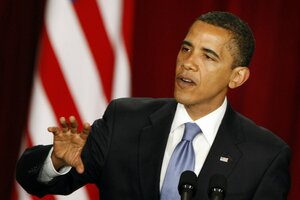 AP Photo/Ben Curtis/File
From Tunis to Athens to Moscow to Wall Street, 2011 has been about dispatching with old ways and rulers, or at the very least, putting them on notice that business as usual is no longer acceptable.
Yet as the year hurtles toward its end, the passage of the National Defense Authorization Act (NDAA) has President Obama and Congress standing in stark contrast to that global momentum by ossifying the mistaken ways of what should be a former era.
The NDAA codifies into law the radical expansion of executive power that has defined US policy since the terrorist attacks of 9/11 – and that has been a hallmark of the so-called War on Terror. Notably, it includes provisions that require the military – not law enforcement – to indefinitely jail accused terrorists. Accused, not convicted.
Obama did threaten to veto the bill, but not because of any objection to the substance of the law. Actually, the White House balked at congressional attempts to limit such provisions to nonAmericans only.
---