Truly free elections in Russia could solve Putin's problem with protesters
If Putin allowed a truly free vote in March elections, he would likely not win a majority and be forced into a runoff. But he would almost certainly win that second round, fair and square – and fairness is what Russian protesters demand.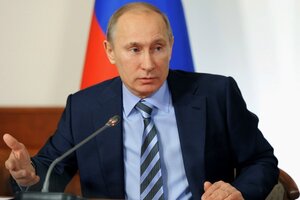 AP Photo/RIA novosti/Yana Lapikova/Pool
Russia's leaders are staring at the horns of a dilemma as their previously passive citizens protest the fraudulent conduct of the Dec. 4 parliamentary elections.
While these protests and the electoral fraud that produced them are serious concerns, the real threat to the regime of Prime Minister Vladimir Putin is that he will lose the presidential elections on March 4, or that those elections will be followed by an even larger wave of protest.
Thankfully, there is an easy fix to this problem that the Kremlin appears only now to be considering: Allow free elections in March.
Russian presidents prefer to win presidential elections in the first round of voting, with more than 50 percent of the vote. However, Russia has a two-round voting system for president. If no candidate receives more than 50 percent in the first round, the top two candidates run off in a second round a few weeks later.
Going to a second round has long been seen as too risky by Russian presidents for a number of reasons. First, it reveals their true (and potentially embarrassingly low) level of support. Second, the chances of losing a runoff are higher than for a multi-candidate first round in which the opposition vote is split.
Until now, most analysts have assumed that Russian authorities would falsify the results of the coming presidential elections in much the same way that they did for the Duma, or parliament: by disallowing legitimate opposition candidates from running, banning the opposition from TV, using a wide variety of dirty tricks to discredit opposition figures, and in the final analysis stuffing ballot boxes to insure, for instance, that more than 99 percent of Chechens vote for the government candidate.
---