Free Syrian Army commander: 'I'll name my son Juppé if West intervenes'
French foreign minister Alain Juppé has called for humanitarian intervention in Syria, but world leaders hesitate. As the price of inaction rises, they need a clear strategy for hastening change. My experience with a Free Syrian Army commander shows that the rebel force will play a crucial role.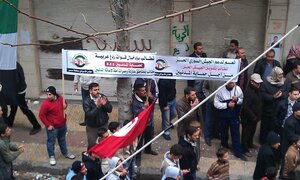 Reuters
As world leaders debate what to do about the ongoing crisis in Syria, much of their hesitation still revolves around whether there is a credible alternative to more than 40 years of Assad rule. The Syria National Council, a grouping of mostly exiled political leaders, has emerged to become the opposition's primary voice abroad.
But what about the Free Syrian Army, the growing rebel force made up of thousands of defectors who are now taking on President Bashar al-Assad's troops on the ground?
Looking for answers, I anxiously waited for a Free Syrian Army commander in a dark cold safe house on the Lebanese-Syrian frontier. The nervous silence was pierced only by the sound of bullets going off in the distant hills. Time passed before headlights appeared, meandering down a pitch-black mountain road. Shortly after, commander Ahmad Al Arabi walked in, Kalashnikov (rifle) in hand.
Mr. Al Arabi is a tough built man in his fifties. No beard, just the traditional Syrian moustache and a charismatic smile. Along with his assault rifle, he is armed with a mobile phone that he uses to communicate with soldiers in the field. The phone also doubles as a camera for photos with lady journalists he smuggles across the border. He is hardly a conservative, religious man.
After some humor to ease strained nerves, the Lebanon-based commander gets down to business.
The battalion he leads is dubbed "Dawn of Freedom," and its area of operations extends from the mountains of northern Lebanon to the outskirts of the besieged Syrian city of Homs, some 12 miles away. Its primary stated objectives are the defense of wounded army defectors and refugees who escape to north Lebanon – both securing their escape routes and defending them on Lebanese soil. It also ensures the delivery of humanitarian supplies to Homs and provides access for foreign journalists reporting on the uprising.
---