If computers can write, why not students?
Computer software can now generate interesting short news stories – if only America's students were so skilled. What the country needs is a new way to teach writing. Forget the academic and unnatural "five-paragraph essay." Go for the rhythm of storytelling.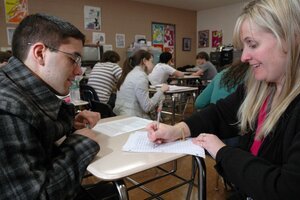 John Nordell / The Christian Science Monitor/File
In a world where your iPhone comes with a woman who answers your questions, reads your texts aloud, and gives directions, it may not seem like a big deal that computers are now writing stories.
But it is. Because storytelling is one of the activities that distinguishes humans from other species. Only we tell stories to remember history, impart values, and entertain ourselves.
Without stories, there would be no religion. And there would be no drama, which to the ancients was the highest form of art and the mother of the novel and the film. Without stories, history would be a long list of events, and kids would never go to bed. To tell a story is to participate in the act of being human.
Enter Narrative Science, a software company that has essentially taught computers to write short news stories through artificial intelligence. Some of their first clients are sports networks that use the software to write short recaps of games. The program analyzes events to pick the best leads and angles upon which to craft the narrative: the comeback, the team effort, the individual as hero, the drama of the streak.
If we can teach a computer the elements of story telling, why can't we teach our students the same thing? (I taught college writing for eight years and now I hire writers – and believe me our educational system clearly doesn't teach kids how to write so that a reader will want to follow along).
We can do better, but we need to reinvent the way we teach writing.
Remember THE FIVE-PARAGRAPH ESSAY? It's still around. Still being promoted as if it were a literary form. The sonnet is a literary form. The FIVE-PARAGRAPH ESSAY is an unnatural invention, one that must have been conceived by academics who don't write much themselves.
---