How Rick Santorum and America can be 'exceptional': Avoid empire
Rick Santorum suggests national health care sank the British Empire and sees America as the rightful heir to British global domination. But empires are largely based on racism and exploitation. To be 'exceptional' America must resist the idea it knows what's best for everyone else.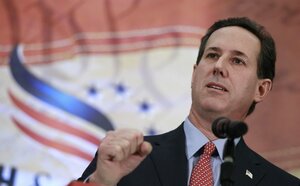 AP Photo/Charles Dharapak
I just returned from a quick trip to Great Britain, which once ruled a fifth of the world's inhabitants and a quarter of its land mass. But then the British instituted a system of social welfare, including national health care, which diminished their strength and confidence – and paved the way for the dissolution of their empire.
So said presidential hopeful Rick Santorum earlier this month in Iowa, where he ran a close second to Mitt Romney in the Republican caucuses. Critics quickly seized on Mr. Santorum's confused chronology, noting that the British left India – the jewel of their empire – in 1947, and their National Health Service wasn't established until 1948.
Yet when I recounted Santorum's remark to a colleague in England, he had a very different response: "Why does the guy like empire so much?"
The answer isn't hard to find. Like most of the other GOP candidates, Santorum seems to see America as the rightful heir to British global domination. All we need is a firm belief in our own superiority, which the British allegedly forsook after World War II.
"One hundred years ago, the sun didn't set on the British Empire," Santorum told his Iowa audience. "If you look at that empire today – why? Because they lost heart and faith in their heart in themselves and in their mission…. Not just for the betterment of the world, but safety and security and the benefit of their country." Today, Santorum added, the United States has "taken up that cause."
---