The perfect storm: Three ways to thwart Iran's nuclear ambitions – short of war
Partly by design and partly by happenstance, a three-pronged US strategy for checking Iran's nuclear program and the regime in Tehran is emerging: an unprecedented combination of sanctions, covert action, and a Syria-inspired protest movement within Iran.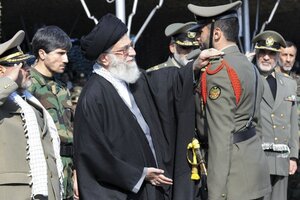 AP Photo/Office of the Supreme Leader, File
Partly by design and partly by happenstance, a US grand strategy for checking Iran's nuclear ambitions – and for thwarting Iran's Islamic revolutionary government more broadly – may now be crystallizing.
The three-pronged strategy presents a viable alternative to the calls by some in the US for military strikes and direct action to foment regime change in Iran. A combination of intensified economic sanctions and covert action, together with a successful Iranian protest movement could thwart Tehran's reported push for nuclear weapons without direct American intervention.
The most visible component of the strategy is a set of intensifying sanctions. They are founded in a series of UN Security Council resolutions reflecting the international consensus that Iran's nuclear program must be curbed. And the United States and other Western nations are reinforcing these sanctions by imposing even tougher measures, among them what seems to be a largely successful embargo on certain "keystone" nuclear commodities needed for Iran's uranium enrichment program.
In the latest developments, the US has designated the Central Bank of Iran as a "primary money laundering concern" under the USAPATRIOT Act. As a result of that sanction and Great Britain's penalizing Iran for the wrecking of the British embassy in Tehran, Iran is being isolated from the international banking system, with severe consequences for the Iranian dinar.
---