Evangelicals now vote for Catholics. Will they also vote for a Mormon?
Defying a history of anti-Catholicism, evangelical leaders recently endorsed GOP presidential candidate Rick Santorum (a Catholic), and South Carolina Evangelicals voted Catholic Newt Gingrich to victory in their primary. Will Mormon Mitt Romney be next to win them over?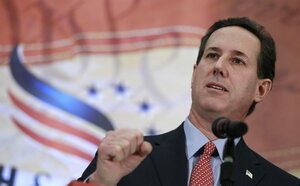 AP Photo/Charles Dharapak
Many years ago, one of my best history teachers gave me advice I have never forgotten. "Don't just listen to what people say," he urged. "Listen to what they leave out, too."
I thought of this remark as I read news reports about Newt Gingrich's victory in South Carolina's GOP primaries last weekend. In a state where evangelical Christians make up 65 percent of Republican voters, 44 percent of Evangelicals cast their ballots for Mr. Gingrich. Tied for second were Rick Santorum and Mitt Romney, who each received 21 percent of the evangelical vote.
Several news outlets reminded readers that Mr. Romney is a Mormon rather than an Evangelical, which could have hurt his showing among conservative Protestants. Going forward, so might his recently released tax returns, which revealed that Romney and his wife donated more than $4 million to the Church of Jesus Christ of the Latter Day Saints in 2010 and 2011.
But here's what almost nobody noted: Gingrich and Mr. Santorum aren't evangelical Christians, either. They're Catholics.
Their evangelical backing is a truly astonishing fact, given the long history of anti-Catholicism among evangelical Protestants in America. For more than three centuries, Evangelicals insisted that Catholicism represented a mortal threat to the body politic. But over the past three decades, they have joined hands with their former foes to change the face of politics altogether.
---