The most important election of a lifetime? So say Gingrich et al.
As Gingrich faces Romney in Florida, he calls 2012 the 'most important election of our lifetime.' Sometimes he compares its significance to the pre-Civil War era. GOP rivals like Santorum and key Democrats like Pelosi are also gasping about the stakes. Time to catch our breath.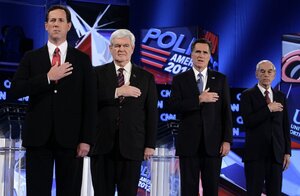 AP Photo/Paul Sancya
Newt Gingrich sometimes refers to 2012 as "the most important election since 1860," which set the stage for the Civil War. His Republican competitors are a bit less flourishing in their comparison, describing November as the vote of a lifetime (though Mr. Gingrich also uses that phrase). Across the political divide, House Democratic leader Nancy Pelosi agrees: It's "the most important election of our generation."
If such descriptions sound familiar, it's because Americans hear them every four years. "This is certainly the most important election in my lifetime – not just because I'm running," said Barack Obama to a Wisconsin crowd early in 2008. Democrats and Republicans applied similar language to the Bush-Kerry contest. In his 1976 campaign against Jimmy Carter, Gerald Ford said, "Make no mistake – this election will decide the direction America is going to take in its third century of independence."
So every presidential race is the most momentous in modern times – until the next one.
---