Going green: View my world-class collection of hotel towel cards.
My global collection of towel cards tells guests how to be green (and save the hotel money) in a dozen instructive, chic, bossy, relieving, euphemistic, paranoid, minimalistic, and earnest ways.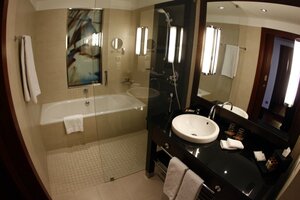 REUTERS/Peter Andrews
Three stars, four stars – whatever its constellation, the hotel chain of your choice wants you to know that it is a lot like you. It may be a mass of buildings, elevator buttons, and brass-plated trolleys for bags. But it is special. A brick-and-mortar being with a heart. Starwood Hotels have a personalized menu for pillow puffiness, after all. Even a Motel 6 has its particular brand of lotion and shampoo.
The bathroom is where your hotel's earnest personality really begins to beam. Cheerful cardboard pop-ups bloom next to the sink ("Did You Forget Your Toothbrush?"), a truly clean toilet shows off its prestigious plastic strip, and a placard near the towels cordially invites you to step up and Save the Planet.
Save the Planet did you say? This little billboard, on just about every bathroom bar these days, is my favorite hotel pleasantry of all. All I have to do is "choose." Asking for new towels means wasting detergent. Re-using my damp one saves it. I am honored to help. And, while the cards don't say this, I am glad to do my part to cut the hotel's operating costs, reduce its laundry room workforce, and improve shareholder value.
I use and re-use my smelly towels for days on end. But I've a confession to make. While the terrycloth stays on the rack, I snag the towel card itself and stick it in my suitcase. I've amassed a world-class collection of these things.
You might think they're all the same. Laminated lectures printed up in bulk. Then check out the samples below – actual text from cards currently hanging in hotels and cruise ships around the globe. I've grouped my favorites into seven basic types. But when it comes to the cards themselves, each is special. Distinctive.
Just like hotel chains. And just like you.
1. Instructive towel cards
A good towel card doesn't just ask questions. It offers a helpful little hygiene lesson or two. It's there for you just in case you never learned how to wash up properly – or in case you forgot. Here's an example from a Norway-based cruise line:
"IF YOU IMAGINE THE TONS OF TOWELS WHICH ARE WASHED EACH DAY YOU CAN PICTURE THE ENORMOUS QUANTITIES OF DETERGENT THAT IS USED. THANK YOU FOR HELPING. HOW TO WASH YOUR HANDS: A) WET HANDS WITH WARM WATER B) APPLY A GENEROUS AMOUNT OF SOAP C) RUB HANDS TOGETHER FOR 20 SECONDS D) RINSE HANDS E) DRY HANDS WITH TOWEL."
2. Chic towel cards
This type of towel card comes in creamy stock and in tasteful beiges and grays. Typefaces can be edgy and tough to read, and the card may be cut in a creative little hook so it can swing on its rack. Here's one from a posh hotel in Dublin that included a blurb offering bathers a pricey "glass of champagne with strawberries & rose petals":
"AS PART OF OUR COMMITMENT TO A CLEAN ENVIRONMENT, WE OFFER YOU THE CHOICE OF REUSING YOUR TOWELS. IF WE CAN BE OF ANY FURTHER ASSISTANCE, PLEASE CONTACT OUR STYLE DEPARTMENT AT EXTENSION 0."
3. Bossy towel cards
Some towel cards refuse to focus on the question at hand. Since they've got your attention, heck, why not badger you about other ways to become a caring global citizen. From a die-cut, four-panel card displayed at a budget hotel chain:
"HERE ARE SOME OF OUR OTHER SUGGESTIONS THAT WE ALL CAN DO: REPORT NOISY, LEAKY FAUCETS AND TOILETS. FILL SINK BASIN TO SHAVE. AND PLEASE: TAKE SHORT SHOWERS."
---