Trapped in Douma, Syria: I saw the faith that keeps Syrian protesters going
During the 14 days I spent in Syria last month, I saw the most horrendous acts of the Assad regime on its people. When I asked people what spurred them on amid such indiscriminate brutality, they all gave the same response: Their only hope is their faith in right and wrong.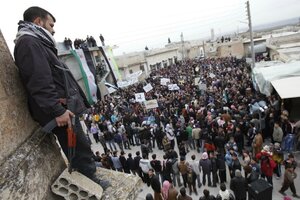 AP Photo
It is 6 a.m. in Douma, one of the suburbs of Damascus. The muezzin, who calls the faithful to prayer five times a day, is reciting the Quran and prayers from the grand mosque's minarets through loudspeakers that the whole city can hear. I know Douma's citizens are listening.
During the 14 days I spent in Syria between Jan. 12 and 26, some of it trapped in safe houses in Douma, I saw the most horrendous acts of a regime on its people. And I know those acts were committed not just in Douma but also in a half-dozen suburbs of Damascus. Every single day, I saw the viciousness of the Syrian security forces – witnessing everything from killings to arrests of individuals in the middle of Damascus for no apparent reason.
I visited scores of families who had lost their sons. I saw orphaned little children who still didn't know what happened to their fathers, uncles, and relatives. But the misery doesn't end there.
I searched for an answer for what makes these people every single day rise up against such a ruthless regime. Why they go and participate in the protests in their neighborhood every single night, even though they know that the brutal regime forces they face recognize no humane rule while indiscriminately shooting at them.
Locals, activists in the revolution, or members of the Free Syrian Army militias gave the same answer every single time.
---