How an Obama shift helps unstable regimes get nuclear weapons
In past nuclear cooperation agreements, the US has required nations to commit to not enriching uranium and opening nuclear sites to inspections. The Obama administration has just done away with the requirement. Congress needs oversight to combat this possibility of nuclear proliferation.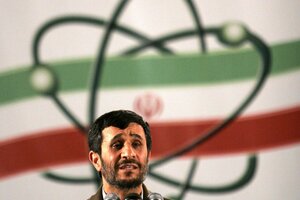 Hasan Sarbakhshian/AP Photo
For over half a century, stopping the spread of nuclear weapons has been a fundamental American foreign-policy objective. The Obama administration took office with a nonproliferation goal of "a world without nuclear weapons." But it recently announced a change of course that will enable more nuclear weapons to end up in the hands of unstable regimes.
At issue are the conditions Washington should place on agreements enabling the sale of civilian nuclear technologies to other countries.
Nonproliferation advocates argue that, when dealing with countries that lack nuclear weapons, the US should only enter into nuclear cooperation agreements if those countries formally agree not to manufacture their own nuclear fuel, either by enriching uranium or reprocessing plutonium. This is because fresh or spent nuclear reactor fuels can be processed to make nuclear weapons.
In 2009, in a burst of nonproliferation enthusiasm, the Obama administration insisted that a nuclear cooperation agreement with the United Arab Emirates, signed by the Bush administration, be reopened to include a legally binding commitment by the UAE not to enrich uranium or reprocess plutonium and to open its nuclear sites to intrusive international inspections. The State Department trumpeted this new set of conditions as the "gold standard" for future agreements.
---