Syrians feel caught in an external power struggle, less willing to confront their own
Syrians feel caught in a proxy power struggle among the US, Gulf states, China, and Russia – who all seem more concerned with their interests and less with democracy for all. This external fight is preventing Syrians from making vital decisions about their own internal challenges.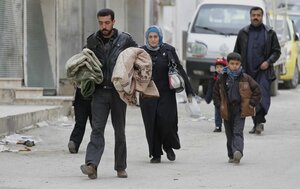 Anonymous/AP Photo
*For security reasons, this writer could not be named.
Just as the world has been watching Syria, so are Syrians watching the world watch them.
They know the official statements of the international community must be taken with a large grain of salt. They know their stances on the situation in Syria are often shaped by proxy power struggles, rather than concern for freedom and democracy for everyone.
They know the United States and Gulf powers want to reduce Iran's influence in the region. They know Russia and China vie for power with the US. They're aware that Syria is seen as just another battleground between Sunnis and Shiites.
They watch the US take zealous stances in support of Syrian human rights at the UN Security Council, even knowing that the US easily vetoes resolutions against Israeli actions that trample on Palestinian human rights.
They hear Qatar and other Gulf countries express concern for the rights of Syrian protesters – who are overwhelmingly (though not exclusively) from the Sunni majority – but are much less concerned with the rights of protesters in the Gulf – particularly those who are Shiite, and specifically in Bahrain.
---