Does Obama really care about religious freedom in America?
Religious freedom in America is under attack from the right and the left. But the right of conscience is our greatest possession. If Obama genuinely supports religious liberty, he can offer his support for a constitutional amendment that would restore protection for religious rights.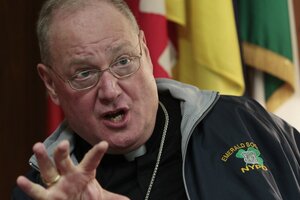 Gregorio Borgia/AP Photo
Religious freedom in America is under attack from the right and the left. James Madison, the father of our Constitution, referred to the right of conscience as "the most sacred of all property" – our greatest possession.
That right is increasingly insecure. Under his expansive health care initiative President Obama mandated that all institutions provide insurance coverage for contraceptives, including the morning-after pill, even though this mandate violated the religious conscience of Roman Catholics.
The Obama administration narrowly averted a major political crisis when it later agreed to "balance" the government mandate by accommodating the free-exercise rights of Catholics. But now critics say the adjustment doesn't fully exempt the church from funding coverage for birth control, calling it a "shell game." And leaders in the Catholic church have said the compromise amounts to a "hill of beans" and have vowed legal action.
What is clear is that Mr. Obama had the power – and still does – to disregard the right of conscience, if political winds blew in another direction. Does the president really support the freedom of conscience or is his gesture a politically motivated charade?
Perhaps, but the trend away from religious freedom has been under attack long before the Obama decision.
In 1990, Justice Scalia, a conservative member of the Supreme Court, authored a decision in Employment Division v. Smith, a case considering whether the state of Oregon could deny unemployment benefits to two Native American men for their the use of peyote (a cactus with psychoactive properties when ingested), whose use and possession is illegal in the state, in the Native American Church.
---