This primary season, peel off political labels
It's primary season, so America is into political labels. Which is the real conservative, Romney or Santorum? Is Obama a European socialist? The more important question may be, 'What are you?' Surprisingly, the answer is probably 'all of the above.'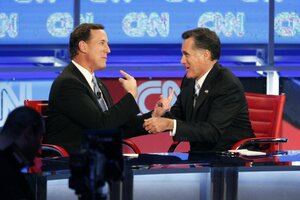 AP Photo/The Arizona Republic, Nick Oza
Because it's an election year, our propensity to label every candidate and every proposal is on full display. Is Mitt Romney conservative enough? Is Obama a progressive, a liberal, or a European-style socialist as many of his critics try to portray him? And what exactly is a libertarian?
Maybe a more important question to ask is, "What are you?" The answer may not be as cut and dried as you think.
According to polls, 30 percent of people identify themselves as Republicans, 32 percent as Democrats, and 38 percent as independent; then there's the broader conservative, liberal, moderate labels, which come in at 42 percent, 20 percent, and 38 percent, respectively.
So a sizable portion of Americans are moderate and independent. (Though not necessarily the same people).
But what does it mean to be moderate? Certainly not that you're in the middle on every issue. Most likely you're passionately conservative on some issues and passionately liberal on others. You share points of view with Rick Santorum and President Obama and Ron Paul. But because we push every candidate into an ideological box, it's hard to see this, especially during a primary season.
During the Reagan years, when I was young, I thought of myself as a flaming liberal. Reagan seemed to represent everything that was wrong with conservatives. He funded the Pentagon while cutting human services budgets. He tried to break up unions. He believed in trickle-down economics. He was against funding Planned Parenthood. But mostly he was just the symbol of the other side to me.
---