Rush Limbaugh 'slut' comment reveals a double standard on sex
Rush Limbaugh apologized for calling student Sandra Fluke a 'slut' for her views on contraception. His offensive remarks revealed an old double standard on sex: Only a 'coed' – that is, a female – can be promiscuous. The rest of us males are just taking what's rightfully ours.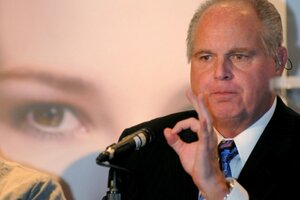 Brian Jones/Las Vegas News Bureau/AP/file
In 1968, the prominent anthropologist Ashley Montagu published a brief article in praise of a revolutionary new technology: the birth control pill. "In its effects I believe that the pill ranks in importance with the discovery of fire," Mr. Montagu wrote.
The pill would emancipate women to make their own sexual decisions, Montagu predicted; at the same time, it would eliminate the "exploitative attitude toward the female" among American men.
He was half-right. Although the soon-to-be-capitalized "Pill" gave women new freedoms, it also threatened a longtime male privilege: the sexual double standard. And traditional men weren't going to let that go without a fight.
That's the only way to understand conservative talk-show host Rush Limbaugh's remarks last week about Georgetown Law School student Sandra Fluke, who had testified before Congress in support of President Obama's policy requiring health insurance plans to cover contraception.
Ms. Fluke told lawmakers that women can pay more than $3,000 for contraception during three years of law school, and that her school, a Catholic institution, does not provide birth control coverage.
"What does it say about the college coed . . . who goes before a congressional committee and essentially says that she must be paid to have sex?" Mr. Limbaugh asked on his Wednesday program. He said this makes her a "slut" and "prostitute." He has since apologized for his remarks.
Limbaugh made no mention of any male sexual partners who would presumably "benefit" from the same government subsidy. In this worldview, only a "coed" – that is, a female – can be promiscuous. The rest of us males are just taking what's rightfully ours.
Indeed, the following day, Limbaugh even suggested that Fluke should distribute sex tapes of herself. In exchange for paying for her contraceptives, "we" ought to be able to view the videos.
---