Self-immolations in Tibet must resonate in America
Tibetans around the world are in mourning for the more than 25 Tibetans who have immolated themselves over the past year in protest against China's oppression. These self-immolations are also desperate cries for support from the international community. Americans can help.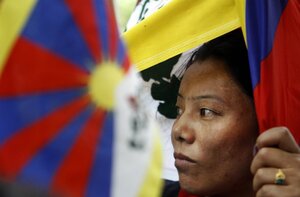 Tsering Topgyal/AP
The 70 Tibetan youths who gather at a Cambridge, Mass., YMCA every week for Tibetan Sunday School normally would have celebrated last month's festival of Losar, the lunar New Year, with joyful singing and circle dances. But this year, the families shared a quiet potluck lunch. The community had made clear there would be no celebration at a time when Tibetan protesters are immolating themselves at home.
In a dramatic contrast to the festivities welcoming the Chinese New Year, Tibetans in Boston and across the globe have refused to celebrate Losar. Indeed, the Tibetan Government in Exile, based in Dharamsala, India, has requested that there be no celebrations this New Year.
Tibetans are in mourning – not only for the loss of their homeland and the threat to their culture under the Chinese Communist regime, but for the 25 monks, nuns, and lay people who have set themselves on fire over the past year. Eighteen are known to have died. Others have been taken away by the Chinese authorities. Their whereabouts and well-being are not known.
The self-immolations are desperate cries for help to the international community, as well as individual acts of self-determination within an authoritarian system that allows few freedoms for Tibetans and punishes expressions of Tibet's national identity as "seditious." The men and women who take this terrible course do so with calls for freedom for Tibet and the return of the Dalai Lama as their final words.
---