Obama help with Israeli preemptive strike on Iran would violate international, US law
For all the talk in Washington of solidarity with Israel on Iran, jumping to Israel's aid in a preemptive strike would clearly violate international and US law. Obama must tell Israel that only self-defense against an armed attack would trigger American participation.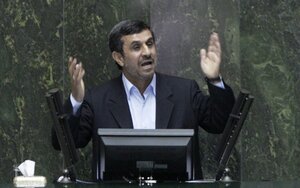 Vahid Salemi/AP
If Israel should launch a unilateral attack on Iran in response to a mere threat to weaponize its nuclear program, should the United States come to Israel's aid?
Before responding affirmatively, American policymakers should consider a word that has rarely appeared in the public debates on Iran or in the media. That word is 'law': international law and US law.
During the meeting of the pro-Israel lobbying group, AIPAC, earlier this month, Republican senators and presidential candidates fell over themselves in calling for US solidarity with Israel should it launch a preemptive strike on Iran.
Senate Minority Leader Mitch McConnell promised to introduce authorization for the use of "overwhelming military force" against Iran if American intelligence shows that Tehran has decided to build a nuclear weapon or it has started to enrich uranium to weapons-grade level. In a March 5 Washington Post op-ed, Mitt Romney hinted that as president he would use military force if Iran acquires a nuclear weapon.
---