Teacher in Uganda: Why give celebrity status to a killer in Kony 2012?
As a high school teacher, I grapple with the Kony 2012 video and horrific memories it stirs for my students. Foreigners again look at Uganda as a country of misery, ignoring our progress. We defeated Kony and the LRA rebels. Why not make a video about the surviving children?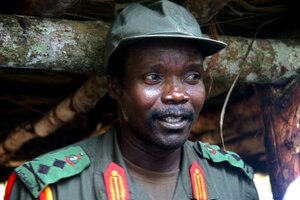 AP/file
Until last week, I had not seen Joseph Kony's face in northern Uganda for almost six years. The leader of the Lord's Resistance Army (LRA) had long since relocated his campaign of violence and fear elsewhere, likely to the Central African Republic.
And yet, suddenly, with the release of the video Kony 2012 on YouTube, Joseph Kony – rapist, terrorist, murderer – is now an international celebrity.
At the high schools where I teach in Lira, in northern Uganda, Mr. Kony left gut-wrenching memories behind – memories of children abducted in the middle of the night, of girls raped, of mangled faces of those who survived and memorials to those who didn't.
And now those memories are resurfacing, not because of any new atrocities on Kony's part, but because of an effort by some young Americans at an advocacy group called Invisible Children. They want to focus attention on his past.
The LRA led vicious attacks in northern Uganda for 20 years, killing tens of thousands of people and abducting children as soldiers and slaves. But Kony and his LRA were pushed out of the country by the Ugandan Army, and there have been no LRA attacks here since August 2006. Most of the 1.8 million displaced people have returned and are trying to reconstruct their lives.
---