Facebook stalking in the name of affirmative action
Ahead of the Supreme Court hearing on affirmative action, I recall how at Roll Call newspaper, I was told that one of our three interns had to be from a racial minority. Diversity is important, but giving someone an advantage beyond his experience degrades the applicant and the hirer.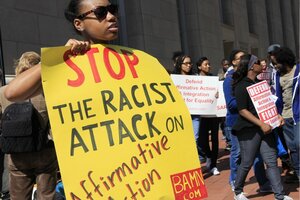 Al Behrman/AP
There I was, Facebook stalking again. But I wasn't chasing after an old boyfriend or trying to see if my niece was having too good a time in Italy. As the internship coordinator for Roll Call (now CQ Roll Call), a newspaper covering Congress on Capitol Hill, I was looking at the faces of candidates for internships.
One might ask: Why did I care about what a prospective intern would look like? The answer was that I was told that out of three interns hired each semester at Roll Call, one of them had to be from a racial minority: African-American, Hispanic, Asian, South Asian, Native American. And in some cases, what you can't tell from a name you can see from a picture.
Mike Mills, the paper's editorial director, denies that Roll Call had a policy to "tip the scales in favor of any candidate solely to fulfill our our diversity goals," but I was given a clear directive otherwise, initiated when I was with Roll Call in 2009 and 2010. It was part of an overall push to improve diversity at the newspaper, which is owned by The Economist Group. The company felt, laudably, that an ethical work environment is one that offers opportunities to those who may not have had them in the past.
I want to be clear that I think the goal is a good one: Most newsrooms these days are anything but diverse, and that lack of diversity affects the kinds of stories covered, the approach to those stories, the photographs, the headlines, everything.
---