Warm spring weather and global warming: If only scientists could be so persuasive
Warm spring weather can help convince Americans that global warming is happening and a problem. But scientists must change the way they talk about this subject. They must leave their ivory towers and learn to speak about climate change in a language that people understand.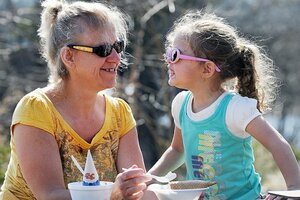 Amber Waterman/Lewiston Sun-Journal/AP
A recent study by the Brookings Institution shows that unusually warm winter weather has made climate-change converts out of many Americans. Unseasonable temperatures are continuing with warm spring weather in much of the United States. In Washington DC, which just recorded its warmest winter, the famed cherry blossoms have opened two weeks early.
Though this kind of weather disruption is what climate scientists predict, they hesitate to place too much emphasis on one or two unusual seasons as a trend that changes public opinion. If next winter is more normal, the public may get the wrong impression about the dangers of climate change. Better for science to be more convincing.
But there's the rub. The American public is generally illiterate when it comes to science (so says the National Science Foundation). And when American scientists complain about public illiteracy and lethargy on the vitally important subject of climate change, they also have themselves to blame.
Generally, those who know the most about climate – and other important scientific fields – are locked up in their university ivory towers and conference rooms, speaking a language only they can understand.
And they speak mostly to each other, not to the general public, policymakers, or business people – not to those who can actually make things happen.
This is dangerous. We live in an age when scientific issues permeate our social, economic, and political culture. People must be educated about science and the scientific process if we are to make rational and informed decisions that affect our future. Indeed, a well functioning democracy requires it.
---