Trayvon Martin could have been my brother
I can only hope that the family of Trayvon Martin and the social media activists who have raised awareness about his killing get the justice that they are fighting for. And that my brothers might be just a bit more safe the next time they're on their way to the store.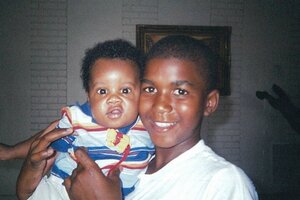 Martin Family/AP/File
Trayvon Martin could have been one of my younger brothers. I think about their caramel and mocha skin tones, wardrobes full of hoodies, and frequent trips to the corner stores. One of them was once stopped by the police, frisked, and told he fit the description of someone dangerous. My brother is not a criminal.
I hurt every time I log on to Twitter or Facebook and see hundreds of familiar and unfamiliar faces dressed in hoodies in support of Trayvon Martin.
This killing in Sanford, Fla., was tragic. A 17-year-old African American, on his way home from the store armed with nothing more than a bag of Skittles candy and iced tea, shot by a neighborhood watch captain named George Zimmerman, who followed Trayvon even after police told him not to.
This young man wasn't given a fighting chance in life, but after his death, he has millions of people fighting for him. Along with his parents, lawyers, and civil rights leaders, the social media community is gathering and asking piercing questions.
I've read questions like these:
Why would a grown man carrying a firearm feel threatened by a 140-pound teenager?
Why did George Zimmerman shoot Trayvon when he was only carrying candy and a drink?
Is Trayvon's killing a form of modern-day lynching?
Why did Trayvon's family have to file a "missing person" report to find out he was in a morgue?
---