Conservative justices may hate Obamacare, but they should not overrule Congress
The Supreme Court's conservative justices deliberating on the health care law known as Obamacare should heed the historical example of Republican-appointed justice, Harlan Fiske Stone. He detested New Deal policies but argued the court had no right to overturn them.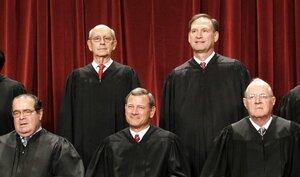 Pablo Martinez Monsivais/AP/File
This week, the Supreme Court heard oral arguments challenging the constitutionality of a congressional mandate requiring all citizens to purchase health insurance. The "individual mandate" is a controversial component of President Obama's health care law, known as Obamacare, which will provide medical coverage to millions of Americans without it.
The mandate will survive only if at least one of the five conservative justices appointed by Republican presidents votes to uphold it. But the conservative justices' questions at oral arguments suggest that they believe they must strike down the mandate to preserve essential economic freedoms.
As they deliberate, the conservatives should reflect on the example of another justice, Harlan Fiske Stone, who served from 1925 to 1946. Justice Stone was also appointed to the court by a Republican, indeed an adamantly conservative Republican. Stone also believed deeply in the wisdom and necessity of the free market. Nevertheless, he wrote dissents castigating his conservative colleagues for striking down New Deal measures that he personally opposed.
His reasoning explains why a justice – including a conservative justice – determined to protect the people's freedom should uphold the Affordable Care Act's individual mandate.
When President Calvin Coolidge nominated his fellow Amherst College alumnus Harlan Fiske Stone to the court in 1925, many assumed that Stone, a lifelong pro-business Republican and former Wall Street lawyer, would protect the laissez-faire economic policies that Coolidge believed the Constitution mandated.
---