A weakened Putin is questioned abroad, under siege at home
Russia's President-elect Vladimir Putin may have won the presidential election, but he lost Moscow. And he faces an engaged, active generation that did not grow up as Soviets. Political legitimacy is more than an official election result; it requires trust.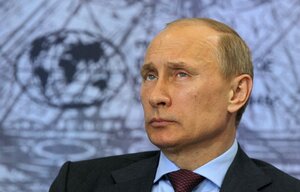 Dmitry Lovetsky/AP
When Vladimir Putin takes the presidential oath of office for a third time on May 7, he will be facing two unexpected new challenges that will rattle and shake his once formidable power base.
First, Mr. Putin may have won the election in March, sweeping 64 percent of the vote. But he lost the battle for Moscow, where he took less than half the vote. Muscovites have dethroned Putin as "national leader," and in a country as centralized as Russia, it will only be a matter of time before the provinces follow suit.
Second, the antigovernment protests in Moscow and other cities this winter saw the sudden coming of age of a generation with little, if any, memory of the Soviet Union. These young urban Russians communicate via social networks, travel the world, and are demanding the end of an archaic political system based on loyalty and patronage.
Of course, the Putin machine is hardly about to collapse. Yet the demonstrations sparked by charges of election fraud in December's parliamentary elections have exposed the vulnerability of a top-down system that depends on one man.
During his first two terms as president, from 2000 to 2008, Putin enjoyed genuine popularity as an unprecedented rise in oil prices helped fuel a dramatic rise in living standards. His continuing success depends on whether oil prices stay high enough to meet his campaign promises – and the rising expectations of a restless middle class.
---