Post-parenthood: When adult children move home, is it OK to be friends?
Facing a slow economy, three of our children moved back home after college. New unemployment figures show we're not alone. I worried: Are these roommates? What are the rules? Beyond the questions, something strange and wonderful was taking place. Mirth. And laughter.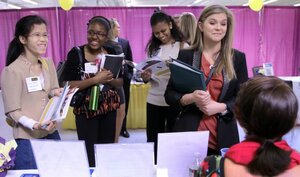 Jim Cole/AP
I was just starting to master this whole parenting thing around the time my kids left for college.
I was learning to let them make their own decisions, sparing them the need to roll their eyes at my advice. I had finally grasped the concept of natural consequences, which states that flunking a class is its own punishment, one that's only weakened by adding an artificial consequence like grounding to it. I was transforming myself from a helicopter into a safety net.
It had taken me eighteen years, but I had figured it out. Then they were gone.
My parenting skills reached new heights while they were in college. Freed from curfew battles and dirty-room wars, I was a new kind of parent. I was free to ponder deep philosophical questions. Like if their dorm room is a mess and I don't see it, is it really messy? If my daughter is oversleeping, and I don't hear her alarm, am I just dreaming? If my kid's at a kegger, and I'm sound asleep, is there really anything I can do about it?
I settled in for a four-year high, which came crashing down along with the economy, as one, then another, and yet another of our five kids graduated and moved back in. According to a recent report by the Pew Research Center, 39 percent of young adults ages 18 to 34 say they either live with their parents now or moved back in temporarily in recent years because of the economy.* Just because you're not alone, doesn't make it easy.
*[Editor's note: The original version of this paragraph incorrectly stated the percent of young adults who have lived with their parents because of the economy in recent years.]
---