Hey SCOTUS, we already have a federal mandate for health care
US law requires emergency rooms to treat patients regardless of their ability to pay. As a hospital CEO, I assure you, we already have a form of universal health care. We simply fund and supply it in an exorbitantly expensive way. Obamacare's individual mandate provides the solution.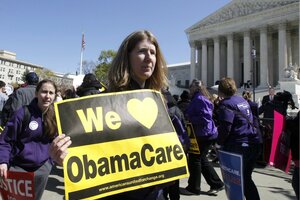 Charles Dharapak/AP
The United States, the richest nation in the world, is the only advanced country without some form of universal health care for all its citizens. And the US now spends around 18 percent of its gross domestic product on health care – the highest percentage in the world.
So while the Supreme Court debates the constitutionality of the health reform law (aka Obamacare) and, more specifically, of its individual mandate, let me share my own perspective as the president and CEO of Baptist Health South Florida, a $3.6 billion not-for-profit health-care organization with seven hospitals, 30 outpatient centers, and 15,000 employees.
America already has a universal health-care mandate. We simply fund it and supply that care in a nonsensical, inefficient, exorbitantly expensive way. Let me explain.
While countries such as Great Britain have a government-run, single-payer (or "socialized medicine") system, others, such as business-friendly Switzerland, have a totally private system.
Switzerland utilizes private health insurance companies and requires all of its residents to purchase health insurance through an individual mandate. It reformed its system several decades ago to a fashion similar to what is included in the Patient Protection and Affordable Care Act signed by President Obama. According to the World Health Organization, quality of care in Switzerland is high, everyone has access to care, and Switzerland spends only 11 percent of its GDP on health care.
---