Iran talks: Why time is ripe for compromise
Positive signals from Iran and the United States are encouraging as talks on Tehran's nuclear program get underway, writes a political expert from Iran's Ministry of Foreign Affairs.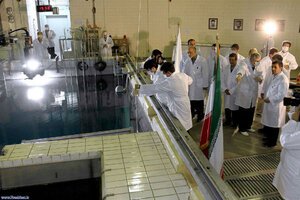 Iranian President's Office/AP/File
The opportunity for a compromise on nuclear and other regional issues between Iran and the United States has never been so ripe as now, when talks resume between Iran and international negotiators in Istanbul this weekend.
The desire for progress on both sides of the table is observable. What can ensure a tangible result?
The answer is an active effort to keep this new engagement continuous and irreversible. Just as nonproliferation is vital to the US, the peaceful use of nuclear technology is valued in Iran as an inalienable right. Hence, an agenda for an ongoing negotiation that balances these two interests must be proposed at the very first meeting to capture the momentum.
The failure of past negotiations is often associated with domestic political rivalry in both Iran and the US. It seems today, however, that both sides have overcome internal divisions.
That Iran agreed to take part in talks without further delay, in spite of sharp critics ranging from military and political officials to the Tehran Friday prayers leader Ayatollah Ahmad Khatami, is a good sign and a momentous decision.
At the same time, the US administration is in an election year. The Obama administration must make a courageous decision considering the criticism that anti-Iranian hardliners will use to foil any credible political deal with Iran. Thus, this is a promising start.
---