Russia protests are overblown by West. Putin is here to stay.
Mesmerized by Moscow protests, Western observers predict President-elect Vladimir Putin's demise. But the politically active middle class is small and limited. US policy must be based on a realistic analysis of Putin's support, not unfounded assessments that he's on his last legs.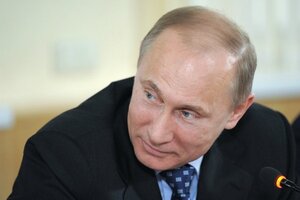 Yana Lapikova/RIA Novosti/Reuters
A fairy tale is enchanting the West – the end of the Putin era. Scarcely a day goes by without some Western observer or pundit announcing the demise of Russian President-elect Vladimir Putin. The mass protests in Moscow and other large cities since the parliamentary elections in early December are portrayed as signaling "the beginning of the end of Putin era." Some observers predict that Putin will be unable to serve his full six-year term.
However, these assessments are based more on wishful thinking – and groupthink – than on hard facts. The protests represent the emergence in Russia of a bold and politically active middle class that is fed up with the growing corruption and constraints on basic political rights under Mr. Putin and his successor, current President Dmitri Medvedev.
Yet one should not exaggerate the political influence of this middle class. While highly active and vocal, it is relatively small and limited to Moscow and a few other large Russian cities. Outside these cities, support for Putin is much stronger and more widespread. Voters in these areas are far from satisfied with conditions. But they fear political change could bring a return to the chaos and instability of the Yeltsin years. For them, Putin represents stability and a barricade against things getting worse.
---