The firing of Brooke Harris: a teachable moment about free speech
Last month, Michigan teacher Brooke Harris was fired for allegedly helping students organize a 'hoodie' fundraiser for the family of Trayvon Martin. By all means, give Harris her job back. But let's also support the free-speech rights of all of our teachers, not just the ones we agree with.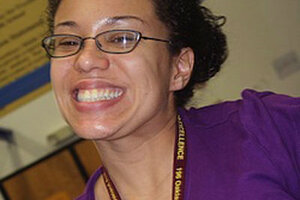 Southern Poverty Law Center via The Oakland Press/AP Photo
The Trayvon Martin case has claimed a new martyr. The first one was Martin, the Florida teenager gunned down on Feb. 26 by neighborhood watchman George Zimmerman. Now there's Michigan teacher Brooke Harris, who was fired last month, allegedly for helping her 8th-grade students organize a fundraiser for Martin's family.
Ms. Harris quickly became a cause célèbre on the Internet, where more than 200,000 people have signed a petition calling for her reinstatement. As the petition correctly noted, dismissals of this type "create an atmosphere of fear" in American schools. "We will not tolerate the silencing of our nation's best teachers," the petition declared.
But we do tolerate it, and increasingly so. Harris's firing comes at a historic low point for teacher freedom in the United States. And most of us have stood idly by, because we don't really believe that teachers should have freedom. Instead, we want them to echo our own views.
Consider the case of Jillian Caruso, who was fired from her Massapequa Park, N.Y., elementary school after her principal objected to a picture of George W. Bush that she displayed in her classroom during Bush's 2004 re-election campaign. A member of the Republican National Committee, Ms. Caruso alleged that the principal – who was married to a Democratic state assemblyman – violated her First Amendment rights to free speech and association.
---