Beyond Kony 2012, child soldiers are used in most civil wars
Kony 2012 campaign calls for plastering posters everywhere tonight. But the use of child soldiers goes far beyond warlord Kony and his LRA. It is the norm in most civil wars. Governments, too, use children to fight. One way to stop it: Deny military aid to these governments.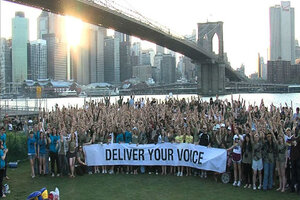 Invisible Children/AP Photo
Tonight, April 20, is the Invisible Children organization's "Cover the Night" campaign, where people all over the world are supposed to plaster their towns and cities with Kony 2012 posters. Invisible Children, the creators of the viral video "Kony 2012," seek to increase pressure on American policymakers to help capture Joseph Kony, the brutal leader of the Lord's Resistance Army (LRA).
Raising global awareness about the use of children as soldiers is a noble goal, and Mr. Kony certainly deserves to be brought to justice for the 20 years he spent using child soldiers to terrorize Uganda. While Kony deserves to be punished for his crimes, his arrest alone will do little to address the global problem of child soldiers.
The military recruitment of children by Kony's LRA is hardly an anomaly. Rather, it is practically the norm for rebel groups and governments alike in civil war and conflict zones around the world.
The Kony 2012 video fails to educate viewers about why the practice of conscripting children occurs and how to prevent it. Our research shows that the use of child soldiers is actually driven primarily by the tactical considerations of government militaries and rebel forces rather than the deviance of individual leaders.
In our global study of 109 civil wars from 1987 to 2007, we find that child soldiers (under 15 years old) were used in 81 percent of those conflicts. Within these conflicts, rebel groups employed child soldiers nearly 71 percent of the time, while government forces employed them roughly 55 percent of the time. Thus, supposedly lawless rebel groups are not the only parties responsible for the use of child soldiers.
---