The case for military intervention in Syria
Former US ambassador to NATO Kurt Volker argues that the West should not wait for a single mass atrocity before it intervenes in Syria, as it did in Bosnia. What is the magic number of deaths that will prompt the international community to act? We've already passed 9,000.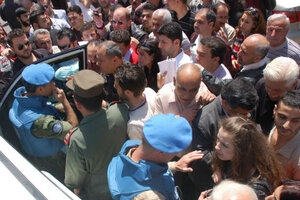 Syrian news agency SANA/AP
President Obama was on the right track this week when he announced a new effort to monitor global hot spots and prevent mass atrocities before they happen.
But what about daily atrocities unfolding now in Syria – where a UN-brokered cease-fire is growing weaker by the day and the world refrains from intervening to stop the violence?
In this case, a history lesson from the Bosnian War is worth remembering. On May 1-2, 1993, negotiators at a resort outside of Athens reached agreement on the "Vance-Owen peace plan" aimed at ending Bosnia's civil war. The plan required Bosnian Serbs to stop shelling Sarajevo, where Bosnian Muslims were under a year-long siege. The catch: Western military force might be required to implement the cease-fire.
In 1993, US Secretary of State Warren Christopher began consultations with European allies to gauge their level of support for military force. But instead of assuring that the United States was prepared to lead the charge, he asked allies whether they were prepared to implement the plan, without committing the US either way. ("Leading from behind" is what one might call this today.)
---