China's deal for Chen Guangcheng: latest signal of desire for better US ties
China's deal to allow blind dissident lawyer Chen Guangcheng to exit the country to study in the US, the Bo Xiliai purge, successful bilateral talks with the US, and other developments indicate that Beijing may be committed to some reforms – and warming relations with Washington.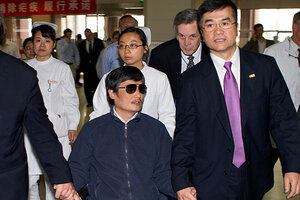 US Embassy Beijing Press Office/AP/File
China's granting permission for blind dissident lawyer Chen Guangcheng to exit the country to study law at New York University, plus other developments, indicate that Beijing may now be committed to improving relations with the United States. At least in the short term.
Part of the Chinese motivation to improve relations may stem from the upcoming presidential election in the US. Beijing would not relish a change in administration in Washington that meant all-out adoption of a Cold War policy by incoming conservative hawks. The reaction of Republican leaders to the Chen affair, as voiced in early May in no uncertain terms by the top candidate, Mitt Romney, was surely noted ruefully by the perceptive rulers in Beijing.
Allowing the Obama administration some space for "victory" on the Chen issue would earn President Obama some domestic favor, or at least avoid the accusation that he has weakly acquiesced to China and its human rights abuses in Mr. Chen's case.
In addition to Beijing's relative cooperation with Chen, the following new developments seem to presage a new Chinese posture of rapprochement.
---