FCC chairman: Time to let public TV raise money for charities
We at the FCC have proposed relaxing the ban that keeps public noncommercial TV stations from doing third-party fundraising for charities. The change won't hinder the educational mission of these stations, but help them fulfill it by raising awareness and meeting community needs.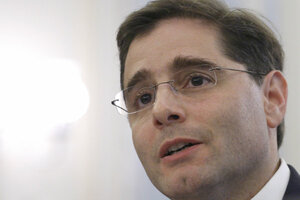 Harry Hamburg/AP/File
After the tragic, September 11, 2001 attacks, religious broadcasters and other noncommercial stations asked the Federal Communications Commission for waivers on our longstanding ban on third-party fundraising. The FCC doesn't allow these stations to fundraise for any group other than the station itself, but after 9/11, broadcasters wanted to launch on-air campaigns for victims and their families.
The FCC granted the waivers, and the broadcasters raised hundreds of thousands of dollars.
We at the FCC have now moved to make this process a matter of course – another step in our ongoing efforts to modernize the FCC and eliminate unnecessary regulations.
Currently, our policy prevents fundraising for charities and non-profits by public noncommerical broadcast stations. The concern has been that these stations must meet their educational mission to local communities through programming, not through fundraising for other organizations.
But allowing noncommercial stations to partner with charities, churches and other religious organizations, schools, and other non-profits to raise money for worthy causes would enable these stations to help meet the needs of their local communities. On-air fundraising by these stations can also help raise awareness about important local and international topics, such as poverty, health care, and humanitarian issues, thereby deepening the station's connection to their communities.
Specifically, the FCC has proposed relaxing the ban by allow noncommercial stations to spend a modest amount of their total annual broadcast time – up to 1 percent or about 88 hours per year – conducting fundraising activities on behalf of non-profit organizations.
---