Broad coalition in Israel shows Netanyahu's centrist colors
By bringing the centrist Kadima party into his coalition, Prime Minister Benjamin Netanyahu can address some of the more fundamental problems Israel faces – including the moribund peace process with Palestinians – without a veto threat from the far right parties.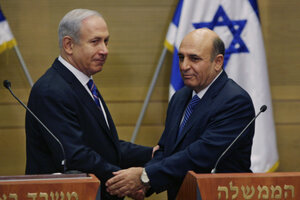 Sebastian Scheiner/AP
Israel woke up to an astounding new political reality Tuesday morning, one in which religious and far-right parties had lost considerable influence.
Having gone to sleep with the certainty that the parliament, or Knesset, would dissolve itself in a late-night vote, once again felling the government and leading to early elections on Sept. 4, the surprise of discovering a newly formed unity government deal in the morning was palpable.
Opposition leader Shaul Mofaz, just months into his new role atop the centrist Kadima party, decided to join the coalition government of Prime Minister Benjamin Netanyahu at the eleventh hour, creating one of the largest unity governments in the nation's history (only two have surpassed it). In a country where governments reach the 61-vote coalition threshold by the skin of their teeth, controlling 94 out of 120 seats – over 75 percent – is historic indeed. But that's only the tip of the iceberg.
Many Israelis, especially Kadima voters opposed to Mr. Netanyahu, were too caught up in the seeming political sliminess of the deal to grasp the opportunities a new political order affords.
Labor leader Shelly Yachimovich, whose party was polling at a distant second for the expected election, called it a "covenant of cowards." Respected journalist and political neophyte Yair Lapid, who will have to now wait 17 months before his newly formed party can enter the Knesset, said it was a "disgusting political alliance." On Facebook, video clips of Mr. Mofaz repeatedly calling Netanyahu an untrustworthy liar resurfaced, alongside Mofaz's own resolute promises not to join a Netanyahu government.
---