Palestinian hunger strikes: the power of peaceful protest
Hunger strikes by Palestinian prisoners in Israeli detention ended with a deal this week for better treatment. That showed the power of peaceful protest. If Palestinians adopt nonviolence as a strategic tool, that could bridge the Israeli-Palestinian divide.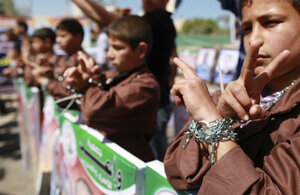 Suhaib Salem/Reuters
It may not have received much international attention, but Palestinian hunger strikes, which ended on May 14, have the potential to shake the status quo of the Israeli-Palestinian conflict.
That potential lies in the nonviolent nature of the strikes, which were carried out by Palestinians in Israeli detention, backed by grass-roots organizers, and concluded with Israel agreeing to improve prison conditions.
Similarly, the rise of strategic nonviolence as a protest tool by Palestinians could well increase domestic and international pressure on Israel for a peace settlement. It could also help unify Palestinian society, which is sharply divided.
Palestinians are acutely aware of the power of peaceful protests of the Arab Spring, discussing them as a strategy for themselves. The hunger strikes represented a new emphasis on nonviolent dissent and reflected some of the characteristics of the Arab awakening: They were well organized, had massive support among the Palestinian public, and occurred over a period of time and on a large scale.
Hunger strikes are not an entirely new tool for Palestinians. The last year has already seen at least two earlier strikes involving a variety of demands. This most recent wave ended with agreements to allow family visits and to terminate "administrative detentions" – imprisonment without charges or trials – at the end of the six-month term. In return, prisoners agreed not to engage in criminal or terror activities from their cells.
The difference between this last group of hunger strikers and the previous ones rests first on the large number of people involved – conservatively estimated at 1,500 out of 4,500 prisoners.
Second, it was pre-planned and coordinated by the prisoners and backed by important political stakeholders – from the militant Islamic group Hamas to the secular Fatah, led by Palestinian President Mahmoud Abbas (although Fatah's support came at the eleventh hour).
Third, and most important, this last wave of strikes was actively supported by grass-roots Palestinian groups and the public. They both rallied behind the prisoners, mobilizing and organizing nonviolent street demonstrations.
---