Inconvenient truths to a ban on texting while driving
In Ohio, heated debate accompanied the move to ban texting while driving. That surprised me. Who could oppose such a thing? Ah, but then the law of unintended consequences put a whole new light on the controversy.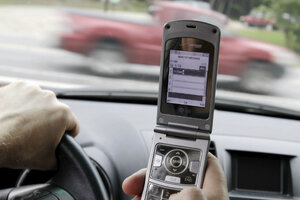 Pat Wellenbach/AP/File
Ohio is the latest state to propose a ban on texting while driving. The bill is awaiting the governor's signature. Media outlets in the state report there was a heated debate on the Senate floor. Really? Who could possibly be opposed to a ban on texting while driving? Even AT&T and Verizon don't object. It's hard to see the downside.
Unless, of course, you're a liberty-loving, anti-government type. Then there's a downside to any legislation except legislation that repeals already-existing legislation.
These folks should form a political party called "The Slippery Slope Party" because that's their argument against almost any law restricting almost any activity. If we ban texting while driving, then soon we'll be banning eating while driving. Before you know it, you won't be able to switch stations on your radio. And you know where that will lead: to a totalitarian state.
As much as I'd like to rant against the slippery-slopers some more, I found another argument against banning texting while driving. This one, based on a few studies and a bit of counter-intuition, is far more interesting.
The argument goes like this: People are so addicted to their phones that a ban won't stop most people from texting while driving. Instead they'll put the phones deeper in their laps to avoid detection and the result will be an increase in accidents.
As crazy as it sounds, there is some statistical support for this. The Highway Data Loss Institute, an affiliate of the Insurance Institute for Highway Safety, found that in 3 of 4 states that enacted texting bans, accidents actually increased after the ban went into effect.
---