As Millennials reject gender roles, but embrace marriage, they're changing society
While the Millennial generation's beliefs reject conventional notions about the place of women in society, both sexes still place a high value on marriage and family. However challenging, these shifting gender roles will force changes in Millennials' home and work cultures.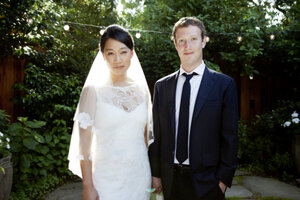 Noah Kalina Photography/Facebook/AP
Having embraced the dreams of their Boomer mothers and grandmothers for equal participation in all spheres of life, the aspirations of Millennial generation women are upsetting the traditional roles of both sexes, not only in the workplace, but at home as well.
As these shifts continue, Millennial men and women will be forced to navigate the spheres of work, home, parenting, and marriage in new ways – ways that may change gender interaction within their personal relationships and on the job.
In the most striking evidence yet of gender equality among members of the Millennial generation (born 1982-2003), data from Pew Research Center surveys conducted in 2010 and 2011 found that female Millennials were just as likely as males to say that being successful in a high-paying career or profession is a very important or even the most important thing in their lives.
While two-thirds of both male and female Millennials in Pew's research wanted a successful career, women in this generation were actually more likely than men to cite that as one of their most important values. By contrast, among older Americans, men place greater importance on career and financial success.
This does not mean that Millennials of either sex have abandoned marriage and parenthood as life goals.
If anything, they place even greater importance on those values. About 85 percent of Millennial men and women say that having a successful marriage is very important to them. More than a third of Millennial women say marriage is one of their most important goals. Virtually all Millennials (95 percent of women and 93 percent of men) place an even greater premium on being a good parent. And, a clear majority of women indicate that parenthood is at the top of the list among their values.
None of this should really surprise anyone who has observed child-rearing practices during the past three decades. The parents of Millennials have been shaping their daughters' values in this "you can have it all" direction since literally the day their daughters were born. And they have reared their sons, in many ways, to accept this new direction.
The end result is a generation whose beliefs have overwhelmingly rejected conventional notions about the place of women in society as compared to any previous generation.
---