4 ways to save Rio+20 summit on sustainable development
As 'Elders,' even our optimism is being seriously tested by the lack of urgency about the Rio+20 summit on sustainable development in June. To succeed, the summit must start by setting goals, just as the UN did with its 'Millennium Development Goals' – with some targets now being met.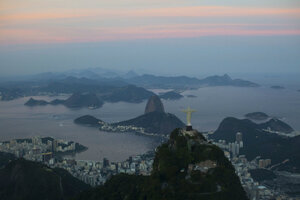 Felipe Dana/AP
As "Elders," we have been involved in public life for quite a long time. We know that change takes time and don't get too worried when progress seems slow.
But even our optimism is being seriously tested by the lack of urgency in the run-up to the UN Rio+20 summit on sustainable development June 20-22. The meeting provides a historic opportunity to chart a sustainable future for the world. But at the moment, there is a real chance that the opportunity will be thrown away.
Everything we have heard, thus far, suggests agreement on the way forward remains out of reach. Countries are divided on both goals and means. Unless these divides are bridged soon, the outlook for a successful summit seems bleak.
We are therefore deeply concerned. The success – or failure – of Rio will have deep repercussions, define the aspirations of today's 3.5 billion young people, and shape the world we leave for future generations.
It was, of course, at the first Earth Summit 20 years ago in Rio that our generation of world leaders accepted that a focus solely on economic growth was no longer possible. In a remarkable break with the past, we recognized that, in a world of finite resources, economic development had to go hand-in-hand with social progress and protecting the environment – while also respecting every country's right to develop.
In the last two decades, the idea of sustainable development has revolutionized the thinking of millions. The understanding of our shared responsibility helped lead to 189 world leaders agreeing to the Millennium Declaration in 2000, which paved the way to the United Nations Millennium Development Goals for 2015.
These goals include specific targets, such as cutting in half the proportion of people whose income is less than $1 a day. In many countries, we have seen determined action on the goals, for instance, reducing pollution and investing in renewable energy. Businesses now routinely look beyond the bottom line to consider the wider social and environmental impact of their decisions.
---