Don't penalize asylum-seekers at US ports
It's not fair: Refugees who seek asylum at US ports can be detained indefinitely, while those who apply once they are already in the country are generally allowed to remain free. The Justice Department must change its position and allow judicial review of asylum seekers at ports of entry.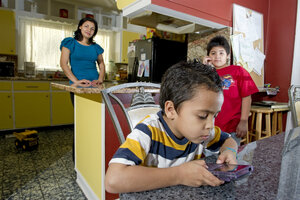 Alfredo Sosa / The Christian Science Monitor /file
Refugees fleeing persecution who arrive at US borders and airports can be indefinitely detained without judicial review. This is the position of the Department of Justice as outlined in a recent letter to immigrant and human rights groups calling for reform.
The Obama administration should reconsider. Otherwise, local immigration officials will continue to serve as both judge and jailer absent meaningful oversight.
An estimated 74,000 immigrants applied for asylum last year. Many sought protection upon arriving at a port of entry; others applied after settling inside the country. In the world of asylum law, this happenstance can make all the difference.
Those with credible claims who apply at borders and airports are detained until either an immigration official grants parole or an immigration judge awards asylum.
Those applying later, including those who enter without papers, are generally permitted to remain free. If they're detained, they can ask an immigration judge to order their release. As it stands, the current system is unfair. It rewards individuals who apply for asylum from inside the country, and penalizes those who are forthcoming at borders and airports.
The Obama administration contends that immigration officials can be trusted to make fair parole determinations, and that judicial review of detention would increase illegal immigration because applicants who are temporarily released would abscond. But judicial review is a necessary safeguard against overreaching immigration officials. Studies have repeatedly shown that officials make inconsistent and arbitrary decisions throughout the asylum process.
---