As Syria morphs into a regional crisis, Annan 'contact group' a good place to start
The conflict in Syria is now a serious regional problem, requiring – ideally – a regional solution. That's why the Kofi Annan suggestion to create a Syria 'contact group' of world and regional powers is a good starting point. But such a group would also face tremendous obstacles.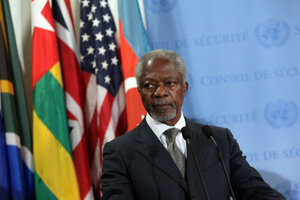 Allison Joyce/Reuters
Warnings that the crisis in Syria will spiral into a serious regional problem have been sounded since the regime of Bashar al-Assad began to forcibly put down protesters over a year ago. Those warnings have turned out to be true – meaning that a solution to Syria should also involve the region.
International envoy Kofi Annan, then, is right to suggest the idea of an international "contact group" that can influence both sides in Syria – including regional players such as Iran. As the former UN secretary general himself admits, his six-point plan is not working and the country is in "imminent" danger of "full-scale civil war."
But as Syria is divided, so is the region, and the obstacles confronting a contact group of world and regional powers are high indeed.
Events in Syria have always had regional implications and repercussions. For example, this conflict has produced a large number of refugees seeking shelter in neighboring Jordan, Lebanon, and Turkey.
However, in the past few months, the cross-border impact of the Syrian crisis has intensified. In northern Lebanon, for instance, recent clashes between pro-Assad Lebanese Alawites and pro-opposition Sunni groups highlight Lebanon's own deterioration of relations between sects. While these clashes have not led to broader armed confrontations at the national level, still, the longer the violence continues in Syria, the more tense sectarian relations will become in Lebanon.
---