Egypt elections: After court ruling, the real concern is not the Muslim Brotherhood
Having upended the democratic transition with a ruling to dissolve parliament, the high court underscores the real concern in Egypt elections for president. Voters should not fear Muslim Brotherhood candidate Mohammed Morsi, but Ahmed Shafiq, a throwback to the past.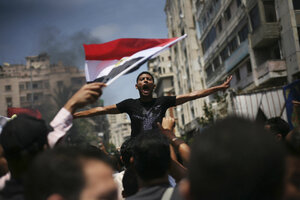 Manu Brabo/AP
Egypt's presidential runoff election on Saturday and Sunday was supposed to be democratic. But that's in doubt now that the country's Supreme Constitutional Court, comprised of judges appointed by ousted dictator Hosni Mubarak, pulled a soft coup on Thursday.
The court dissolved the newly elected parliament, dominated by the Muslim Brotherhood, placing power solely in the hands of interim military rulers who appear to be paving the way for a return to the pre-revolution days of the old guard.
The military leaders obviously fear the ascendency of Islamist politics and their own demise. But their latest move, including the introduction of marital law in advance of the court's ruling, has exposed to democracy-hungry Egyptians where the greater concern should lie – with a win this weekend for Ahmed Shafiq, the former prime minister under Mr. Mubarak.
In two days of voting this weekend, Mr. Shafiq, a former leader of Egypt's air force, faces off against Mohammed Morsi of the Muslim Brotherhood, an engineer by training who once worked for NASA in the United States. Both Shafiq and Mr. Morsi won roughly 25 percent of the vote in the first round of elections in May.
Since then, though, fear factories have spun out of control claiming that the "painful" second-round choice would hardly bear the fruit of last year's revolution. Many believe the election is between two extremes: a throwback to the era of Mubarak or a drastic shift in the direction of a strictly religious state.
---