How to maintain drop in US driving deaths
Driving deaths in the US are down dramatically among teens and adults. This coincided with the Great Recession. People drove less and also drank less at bars and restaurants. While we don't want to prolong joblessness, we can do something about alcohol and driving.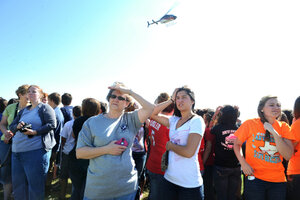 Nellie Doneva/AP
The number of teens who die in motor vehicle crashes has tumbled to historic lows, down 64 percent since 1975, the Institute for Highway Safety reported last month. That's a very welcome trend, since crashes are by far the leading cause of death for teenagers.
But it's important to look closely at two related trends.
First, after declining gradually since 1988, the death rate from crashes for teens aged 15-19 dropped almost 30 percent between 2007 and 2009, an unprecedented two-year drop.
Second, most other age groups experienced a smaller but noteworthy 20 percent drop in those two years.
The widespread adoption of "graduated driver licensing" – the granting of full driving privileges to teens only after a supervised, restricted interim period – probably explains the greater drop in the rate for teens. But clearly other factors were at play that affected Americans of all ages.
The sudden decrease in traffic deaths followed a long-term decline apparently reflecting improvements in vehicles, roads, and driving behavior, such as seat-belt use. But much of the recent reduction in deaths was related to the economic recession.
A dramatic upswing in unemployment in 2008 coincided with the beginning of a drop in motor vehicle travel and a sharp decrease in highway deaths.
And note this: Economists Chad Cotti and Nathan Tefft report that along with increased unemployment came decreased alcohol consumption. That relationship – seen in previous periods of economic depression – was reflected in the drop in all fatal crashes.
Mr. Cotti, at the University of Wisconsin, and Mr. Tefft, at Bates College, suggest that alcohol expenditures away from home decreased while purchases of package alcohol did not. This underscores the role of drinking in bars and restaurants that is typically followed by alcohol-related driving to get home.
---