The other victim in the Sandusky verdict: Mike McQueary, the Good Soldier
Mike McQueary reported apparent child sex abuse, but he's blamed for not doing enough. American men may call the rule-breaking Lone Ranger their hero, but they are raised to be the Good Soldier or Team Player. It's easy to blame McQueary for not being the exception.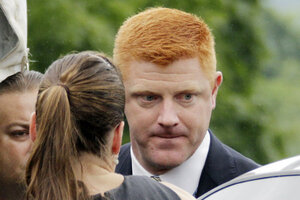 Gene J. Puskar/AP/File
Over the weekend, a jury found former Penn State defensive coach Jerry Sandusky guilty of dozens of counts of child sex abuse. Let's hope the verdict gives Mr. Sandusky's victims some peace of mind. Although for one of them, I suspect it won't. Mike McQueary, a former Penn State graduate student and assistant coach, is – in a way – a victim, too.
He's one of the few people in this horrific drama who actually took some action. He interrupted what appeared to be a rape, and he reported it. But he's been blamed for not doing enough. He's been found guilty by many of us for not physically taking the bad guy out. For not doing what Rambo or Superman would have done. For not being the hero every man believes he would have been if faced with the same situation.
One of the difficulties of being an American male is that you grow up with two competing stories of manhood. The first is the Lone Ranger story. This is the story of the hero who works outside the system. The detective who breaks all the rules. The guy who doesn't believe in the chain of command. This is the story of every Superhero: the protagonist who inhabits every male's alter ego.
The other story isn't as thrilling or as dramatic. But it's the story told by every institution a boy comes in contact with. Once he closes the comic book, this is the story told by his coach, his Boy Scout leader, all his teachers, even his parents. It's the story of the Good Soldier, the Team Player. The good guy who works within the system. Who takes one for the team. Who respects authority. It's the story of loyalty and codes of honor. It's the narrative of fraternities and Marines.
---