Networked moms are the new soccer moms – and they're not on the sidelines
The landscape has changed since the 'soccer mom' term gained prevalence. With technology at our disposal, we moms are now powerfully networked and politically active. Politicians take note: 'Networked moms' are definitely in the game – and changing it – not watching from the sidelines.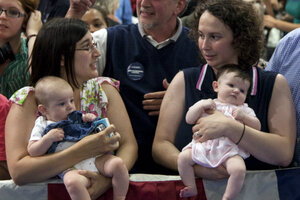 Carolyn Kaster/AP
I love watching both my son and my daughter run like the wind as they dribble the soccer ball down the field. I love cheering on the sidelines, clothes layered against the rain. This doesn't, however, make me a "soccer mom," a term political commentators regularly use to define me – and tens of millions of other moms.
In a political context, the very idea of a soccer mom, conjures up an image of a woman standing off on the sidelines. That image – and that label – doesn't characterize the political and civic involvement of modern moms. With new technologies at our disposal, we are now powerfully networked and politically active. We are "networked moms."
Politicians take note: We are most definitely in the game – and changing it.
The landscape has changed since 1996 when the soccer mom moniker became prevalent. Women are now networked together in ways unimaginable just a decade ago. By the end of this year, more than 90 percent of moms with kids under age 18 in our nation are expected to be online. And more than 36 million women are now active in the blogosphere, either publishing or reading blogs.
To win a national election, politicians now need – and woo – the mom vote (both married and single moms). Eight in ten American women will become mothers by the time they're 44 years old. Those moms are a powerful political force and a critical swing vote.
Many moms are struggling. With three-quarters of moms in the labor force – and nearly half serving as primary breadwinners, we have a 21st century workforce with family and economic policies from the 20th century.
Here's what's really going on with moms: One year of infant daycare now costs more than a year of public college in many states. Nearly a quarter of families with young children live in poverty. Nearly 80 percent of low-wage workers – and nearly 40 percent of private-sector workers – don't have access to a single paid sick day. More than 177 other countries have some form of paid leave for new moms, but the US still doesn't.
---