Why there will be no foreign military intervention in Syria
Despite the apparent failure of the meeting in Geneva over the weekend and a new Human Rights Watch report of widespread torture by the regime of Bashar al-Assad, a foreign military intervention in Syria is unlikely. In fact, there is reason to doubt that Washington really wants Assad to fall.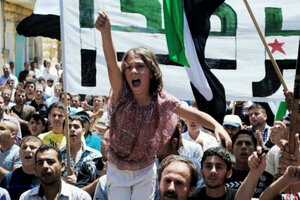 Anonymous/AP
Last weekend's international conference in Geneva seeking agreement on a path to resolving the crisis and escalating violence in Syria produced vague proposals for a transition government unlikely to go anywhere but Kofi Annan's personal archive. Despite this failure, new Human Rights Watch reports of systematic torture by the Assad regime, and the continuing call for intervention from many activists, including the Free Syrian Army, it is unlikely that there will be any armed foreign intervention in Syria as there was in Libya.
The tactical situation in Libya made intervention relatively easy: Essentially all that was needed to prevent a massacre of civilians in Benghazi was to interdict Muammar Qaddafi's forces along a single road running eastward along the Mediterranean shore to that city. This was done, and lives were saved. Such a situation does not exist in Syria, where the planes or missiles would have to attack formations surrounding many cities and towns as well as locate the bases of the less visible government-sponsored militias.
---