In Pennsylvania, the Rosa Parks of voter ID faces down GOP voter suppression
A Pennsylvania court will hear a suit challenging the state's voter ID law, which requires a volume of voter qualification proof not present in a Supreme Court ruling that upheld voter ID. Leading the charge: a 93-year-old black woman. If she loses, Republican voter suppression wins.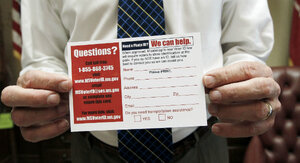 Rogelio V. Solis/AP/file
The battle over how far states can go in their voter identification requirements will face a high-noon showdown July 25 in the Commonwealth appellate court in Pennsylvania.
The court will hear the case of Applewhite v. Commonwealth of Pennsylvania. At issue is a new state law signed March 14 by Republican Gov. Tom Corbett. The law requires voters casting ballots in person to have a photo ID from a limited number of sources, such as a driver's license or a government-issued employee ID.
What makes the Pennsylvania case special is that it relies on a volume of voter qualification evidence not present in the definitive 2008 Supreme Court ruling that upheld Indiana's strict voter ID photo requirements by a 6-3 vote.
In the Indiana case, Justice John Paul Stevens, a traditional defender of civil rights, sided with the Supreme Court's conservative majority because he found no evidence that Indiana's photo-ID requirement imposed "excessively burdensome requirements."
The carefully prepared Pennsylvania case suffers no such evidentiary lack. It has a series of plaintiffs, led by Viviette Applewhite, a 93-year-old black woman, who worked as a welder in World War II and later marched with Martin Luther King, Jr.
---