Ehud Olmert could be Israel's comeback kid – and make peace with Palestinians
After his acquittal from key corruption charges former Israeli Prime Minister Ehud Olmert is well positioned as a comeback kid in Israeli politics. If Olmert does return, the political discussion in Israel is going to change, with renewed focus on the Palestinian question.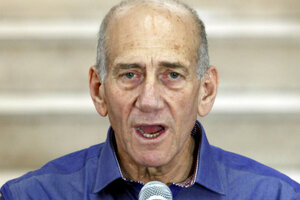 Gali Tibbon/AP
The July 10 acquittal of former Israeli Prime Minister Ehud Olmert from most of the corruption charges against him is a watershed moment for the Jewish state and, perhaps, for the whole region.
On the most obvious level, the verdict that clears Mr. Olmert of charges in two major matters undermines the credibility of the general prosecution in Israel. This is especially true given the harsh words the court had to say about the reliability and coherence of the star witness against Olmert. Many in Israel are wondering about the ease with which the attorney general's office indicted a prime minister and threw an entire nation into turmoil on the basis of such testimony.
The acquittal may also have a chilling effect on the attorney general's willingness and motivation to pursue future cases of political corruption. Constitutionally, the judgment has already reignited calls for checking the authority of the attorney general's office, either by splitting its authority between different agencies or by creating an independent bureau that would oversee its decisions.
One way or another, what four years ago looked like a triumph for the rule of law – the ability of Israeli officials to fearlessly investigate and eventually prosecute a sitting prime minister – now looks more like something that could only happen in a banana republic: a political leader removed from office, at an incredibly sensitive time, on the basis of surreally flimsy evidence.
But the most interesting implications of the court's decision are, of course, political.
---