Bullied bus monitor: one cog in a broken machine
Bullied bus monitor Karen Klein had a responsibility to assert her authority. The takeaway for a child witnessing her passivity would be: 'If a grown-up can't do anything to stop them, then I sure can't.' That simply isn't true. School districts and parents must learn from this case.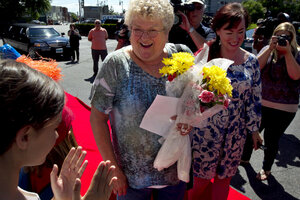 Steven Senne/AP
As her story begins to fade from the news cycle, bullied bus monitor Karen Klein will ride off into the sunset a whole lot richer, while the "bad guys" – her seventh-grade tormentors – exit the stage a lot less cocky than they entered, suspended from school for a year and their actions thoroughly condemned.
Don't cue the happy ending music just yet.
Although the story and the donations it inspired may have turned out well for Ms. Klein, anyone who's watched the cringe-inducing video of her harassment can see that bullying continues to pervade school environments.
On comment boards, some cynically groused, "I was bullied like that every day all through high school. Where's my half million?" One blogger posted the news of Klein's incident under the sarcastic title, "Someone Is Bullied On A School Bus For The First Time Ever." In short, the feel-good campaign to send Klein on "the vacation of a lifetime" did nothing to solve the problem. But a good hard look at everything this video shows us could.
Though it lacks horrific violence and disturbing racial implications, the bus-monitor video is in some ways reminiscent of the 1991 video of the police beating motorist Rodney King. That earlier video provided a document of a rarely recorded but frequently occurring behavior, grabbing the nation's attention – at least for a few days – and exposed us to an oft-ignored injustice. And like the King video, the bus-monitor video shows us something with a far greater significance than the event itself.
The video of King's beating laid bare an entire culture of institutional failings within the Los Angeles Police Department; the video of the abused yet passive bus monitor lays bare an entire culture of institutional failings within our schools.
---