The threat to American democracy that Romney and Obama aren't talking about
It's called the civics gap. Only one-third of Americans can name all three branches of government. Education reform's focus on high-stakes testing has sidelined civics education. To save American democracy, Romney and Obama must discuss how to help schools educate engaged citizens.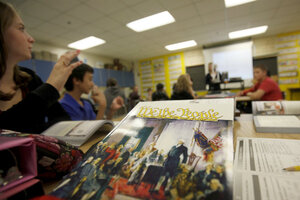 Tony Avelar/The Christian Science Monitor/File
Speaking to the NAACP last week in Houston, Mitt Romney reiterated his education agenda, calling for increased school choice to allow students to escape the "mediocre schools" that "set [students] up for failure." Earlier this spring, Mr. Romney joined President Obama and school reformers in calling educational inequity the "civil rights issue of our era," pledging to make it one of his campaign's three top pillars.
That both presidential candidates are committed to education is laudable – our public schools are far from where they need to be. But unfortunately, this latest round of the education debate has once again left out a central purpose of our public education system: creating engaged and informed citizens.
Education advocates have drawn attention to our education problems by spelling out their real and dire consequences. In March, a Council on Foreign Relations report, co-authored by former Secretary of State Condoleezza Rice and former New York City Schools Chancellor Joel Klein, warned that "educational failure puts the United States' future economic prosperity, global position, and physical safety at risk."
---