The way forward in Syria after Bashar al-Assad
Yesterday's strategic bomb attack in Damascus shows it's not too soon to consider the way forward in Syria after the rule of Bashar al-Assad. Lessons from other countries teach that Syria and the international community will have to pull together for a successful transition.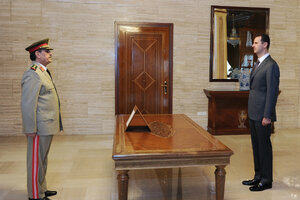 SANA/AP
In light of yesterday's bomb attack in Damascus that killed three key officials in the regime of Bashar al-Assad, it's not too early to consider the way forward in a post-Assad Syria.
Conflicts in Libya, Iraq, and elsewhere illustrate that by the time the battle reaches the capital, the night is far spent. Even as the UN Security Council again split on Syria, with Russia and China vetoing sanctions today, international leaders were already looking beyond the final collapse of the 42-year-reign of the House of Assad. British Prime Minister David Cameron yesterday called again on Mr. Assad to step down, while President Obama urged Russian President Vladimir Putin to abandon his Syrian ally.
A post-Assad peace and reconstruction framework would require a significant departure from business as usual both within Syria and in the way that the world interacts with this strategically placed country.
Examples in other countries show that a transition will be greatly aided if Syrians can:
---